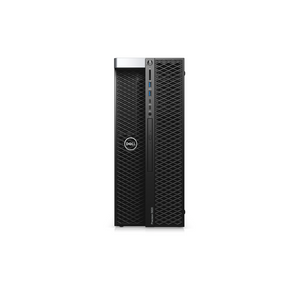 Description

Specs

Warranty & Policies
From the Dell Precision line. Lightning fast, efficient Xeon 4 Core W-2125 CPU. Easily upgradable workstation. These suckers can upgrade to 512GB RAM. Start with this above entry level and boost up as needed. 
 CPU

W-2125 4 Core 4.0Ghz (upgradable)

 Memory
16GB DDR4 (upgradable) 
Storage 
4 x Hot Swappable
 Hard Drive
512GB SSD 2.5" (upgradable)
 USB 3.1
6 x 3.1
 USB C
x 2 USB C 3.1 
 Display Port
3 mini P400
 HDMI
0
 Line in
1
 Line out
1
Expansion
(1) PCI-E x16 Half Height
(1) PCI-E x1 Half Heigh
 Optical
DVD-RW

Internet

Gigabit ethernet

Graphics Card
Nvidia Quadro P400   - 3 Display Port - 2GB Graphics Card (upgradeable)

eSata
0
SD card Reader
0
Power Supply
425W (upgradeable) 

NO HEADACHE RETURN POLICY
We'll make it easy. Just contact for a no headache return.

No restocking fee
Must be returned within 30 days of purchase.
Must be packed well for safe return.
Must be recieved in the original condition.
Purchaser pays for return shipping.
Our warehouse and offices are open Mon-Fri, 9am-4pm. If you call or email on a weekend, you will get a response on the next business day. No items are shipped from our warehouse on weekends.

Customer Service:
email: support@featuremarketing.com
phone: 480-947-9912

All items come with a 90 Day warranty. Batteries on refurbished laptops are guaranteed to be in good working condition unless otherwise stated, and have a 30-day warranty.